Life as a Gym Operator is as competitive as ever. With new clubs, new programming, new amenities, new communities, more customization - trying to acquire and/or keep a member can be more difficult. Not to mention all of the internal functions an operator has to manage on a daily basis.
While it's hard, it's not impossible.
BFit by Bob's CRO Trey McClain is someone who works daily to do that really hard thing.
Knowing he couldn't tackle everything at once, Trey and his team identified two areas of opportunity …
Member Experience
Internal Communication + Culture
Trey was a spectacular guest with MXMetrics CEO Blair McHaney for Part 1 of the "There's Money in Your Member Experience" webinar series - "Money on the Ground."
The pair spent an hour detailing the ways in which Member Feedback can present a Gym Operator with "Money on the Ground" opportunities - a way to drive quick revenue wins with your Member Feedback.
Then Trey shared a fantastic example of how a tweak to an internal process had a ripple effect within the business - from culture to costs to revenue.
We should mention that BFit by Bob's is a 2021 Five Nine Award winner - an industry standard of excellence for Member Experience in the Fitness Industry, presented by us, MXMetrics.
There's so much gold in Part. 1, check it out if you haven't already seen it.
For now, though, here's some takeaway gold …
….
When you market your club, are you marketing price and amenities? ... or are you marketing goal setting and the development of healthy habits? If, for you, it's the former, try the latter.
While going through Member Feedback, Trey and his team made it a priority to help their members and future members focus on the development of healthy habits. All of this happened because of member feedback - members were offering up their struggles.
This is what we call a "Money on the Ground" opportunity. A member tells us what they need and we help them get it - feedback that you can begin to address immediately.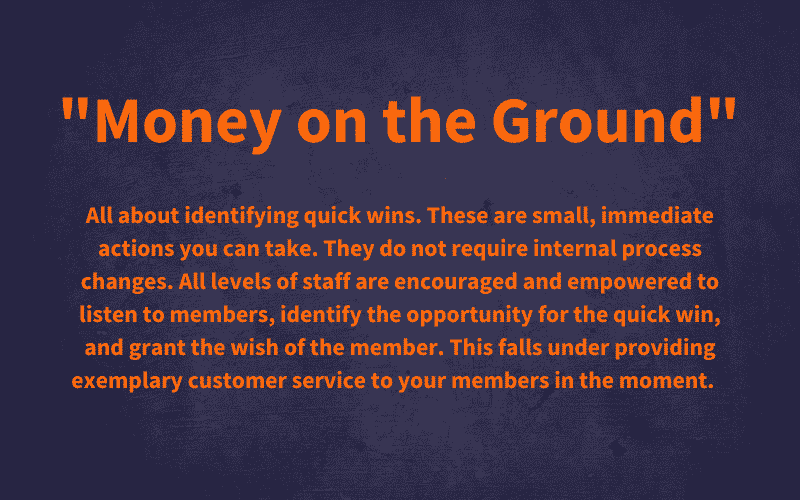 This really cemented the notion that a member who has fitness goals in mind is a better member than someone who just shows up to show up. Taking it a step further, the lifetime value of a goal setter is greater than the person who just shows up.
Most importantly here, we have the ability to help our members not only in the short term, but also in the long run. This is how you create a lifelong member.
… and more gold from Trey:
BFit by Bob's had a great idea to improve internal communication. Trey and his team sought a platform that would better connect the team in the digital space, instead of relying on email.
As a whole, his team wasn't using email all that often - not for a matter of effort, there just wasn't the need for a good majority of them.
They began to look at other platforms for internal communication, and Basecamp is the one on which they landed.
Switching internal communication to Basecamp made a huge difference in how people communicated but also the volume of people that were communicating with one another.
The two biggest wins from this change?
More streamlined processes and workflows … and it brought his team closer together! It was easier for people to talk in groups, which brought about the opportunity for his team members to get to know each other away from the gym.
This change transformed the culture - while, at the same time, saving the company thousands of dollars.
Those merely are two examples shared by Trey and Blair. To get the rest, click HERE to watch the recording. Our goal is for you to walk away from "Money on the Ground" with actionable tips that can be implemented right away - quick and easy wins.
If you like what you've heard and want to learn more about Member Experience + Employee Experience, you've come to the right place.
Click over to the MXM+ page to see what your Member Experience can do for you - how investing in your Member Experience can Pay. You. Back!
We're here to give you all the tools you need to start picking up the money on the ground.
CLICK HERE to register for Part 2 of "There's Money in Your Member Experience," "Money on the Table," featuring Keith Elliott, Member Experience Director at EoS Fitness.