We've talked a lot about the ways in which having a set of core values for your business sets the groundwork for future success, and have even talked more deeply about how to cultivate these values in a practical way. In this last section of the Strategy Wheel, we will dive even further into the practical ways in which you can make these core values a reality in your club. 
This brings us to the very necessary component to a successful business; Technology. Whether you want to accept it or not, our existence is continuously propelling further into the tech world and without it, we will fall behind. From the way in which your members check in, to how they share their feedback, to signing up for classes and paying, to smart gym equipment, technology is an invaluable tool that can either create ease and convenience, or headaches and frustration. 
Technology doesn't need to be complicated. It can be as simple as a card scanner, or digital locks on lockers. When pondering which areas of your business could benefit from technology, turn to your members for guidance. Your members are constantly testing each component of your club when they come in to use your facilities. They have a wealth of knowledge on what works best for them, and what needs to be improved. Having a tool to gather data from your members is the key to unlocking this knowledge from them, and make understanding your business from their eyes a reality.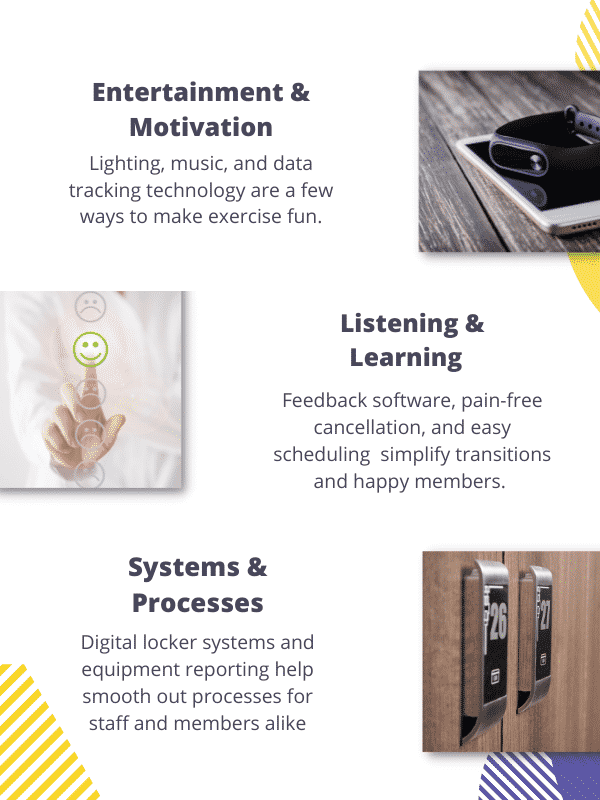 Getting feedback from your members at volume will help you understand whether you are executing your strategies, whether you are doing a good job, and if you are helping them create exercise habits. There are a handful of software platforms that can help you automatically get feedback from your members, and depending on the size of your club, what kind of audience you cater to some will work better for you than others. 
When you have started to collect feedback from your club members, you can start to evaluate pain points to discover other areas in which employing tech will help you improve their experience. For example, if when you poll your members on your class offerings and receive a large percentage of feedback indicating a difficult process to schedule a class, it is clear that your scheduling software could use a change. 
One of the most common negative feedback comments gyms receive is from a frustrating cancellation process. Having a billing and scheduling software such as ABC Fitness Solutions can help facilitate the cancelation process. Make cancellation easy and kind with one click on your website, a short form, and an automatic thank you email. This process greatly increases the likelihood that a member may rejoin in the future. The feedback software MXMetrics has a cancellation survey that is automated which can help you understand why they are choosing to go, and if they are good candidates for rejoining.
Technology is also imperative for clubs that are aiming to create a vibe or theme in their club. For example, if you have a Spin Studio that you want to have the feel of a nightclub, you will need to invest in lighting and sound equipment to capture that feeling. Or if you are aiming to create a bodybuilding gym, you should consider having tech that helps your members track their nutrition statistics. Having a wearable fitness technology accessory and program such as Myzone helps to instill a sense of competition amongst members and encourages individuals to compete against themselves. Having visibility into their progress builds motivation and creates good habits. 
Additionally, having technology that integrates well together will help you and your staff better manage your club with efficiency and ease. Your lead management, marketing, CRM, messaging and feedback software should work cohesively to reduce overlap in function as much as possible. Redundancy in these situations leads to wasted time and money, so keep it as simple as possible remembering that your best lead generation and marketing comes from having happy members. Create raving fans, make the member experience your number one goal.