When it comes to keeping members happy, our data shows there are three main drivers to customer loyalty: friendliness, cleanliness and equipment condition. In this section of the Strategy Wheel we cover two of the three main drivers, both of which fall under the Facilities Management. 
The aesthetic, functionality and upkeep of a business says a lot about who is running it and what is important to them. If you're not careful about the experience your customers have in your business, you are less likely to draw in new clientele or even keep the customer base you've carefully grown. 
Imagine the experience of going to a restaurant - you walk into the building and it isn't clear whether or not you should take a seat yourself or wait for a staff member to walk you to a table so you loiter uncomfortably in the foyer. After a minute or two, a member of the waitstaff greets you with a smile and tells you to follow them to a table. Your shoes make sticky sounds as they make contact with an unknown substance on the floor while you squeeze and scoot your way past other guests whose seats are uncomfortably close to each other on the way to your table. Once you've taken your seat, you unfold the menu and find exactly what you're looking for and order it promptly with the knowledgeable waitstaff before making a trip to the restroom. You scoot and shuffle past the narrow row of tables again to arrive at the bathroom where there is no toilet paper in 2 of the 3 stalls and only 1 soap dispenser if properly working. After washing up, you head back to your table, sidling uncomfortably again past guests with heaping plates of food to your table where your own meal has arrived. The food is delicious and the staff is prompt and friendly about refilling beverages and making sure you have everything you need to enjoy your meal. When it's time to settle your check the staff directs you to the front where you join a line of patrons all jammed together with customers waiting for a table in the sticky floor foyer you came in through. 
Though you had a lovely meal and the staff was delightful, the conditions of the restaurant give you pause for what kind of care goes into other processes. Are they cleaning their kitchen with the same attention to detail they used when cleaning their foyer? Are they stocked on food items the same way their bathroom was stocked with necessities? These aren't "make or break" decisions for everyone, but it gives most people pause when something doesn't function in a way that feels comfortable, safe, or even expected.  Even though the food and the interactions with the staff were stellar, the mismanagement of the restaurant facilities may color the overall experience in a negative light.  In order to give your customers confidence in you as a manager, your facilities need to reflect the experience you want your customers to have as a whole during their interactions with each aspect of your business.
In the same way, Operators need to be conscious of the experience their members are having throughout the gym. Is the equipment spaced out enough to allow proper walkways? Are the soap dispensers in your showers full of product and rid of gunk and grime? Is your equipment functioning properly so your members can utilize the machines needed to complete their best version of their workout?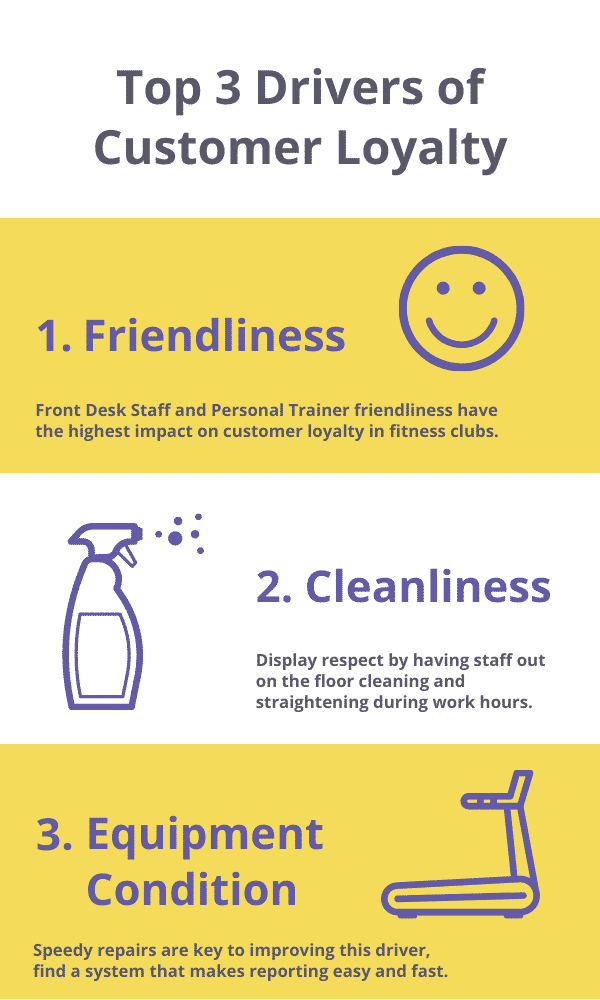 Building off of the last section of the Strategy Wheel where we gave the example of having a smooth process for members to report broken equipment, having equipment repaired in a timely manner greatly improves member satisfaction. With a goal to improve member experience at our two Worx clubs in this category, we dove into feedback from members using our MXM software, and were able to find a weakness in time to repair equipment. 
We set out to find a way to alert our Facilities Manager when equipment was broken faster, and came up with a simple plan: make it easy for members to report when things don't work. We chose to use a whiteboard system, which made it quick and easy for members to look at the number labeled on the piece of equipment, and write it on the board with a brief description and the date. Every day our Facilities Manager would prioritize items on the whiteboard and find ways to wipe the board. 
When members noticed the speed at which items on the board were erased, and subsequently the equipment had been repaired, they began to report smaller issues more frequently, resulting in equipment being repaired before getting to the point of being completely out of order. As equipment repairs occurred in a faster time, our MXMetrics scores on Equipment Condition went up and our goal was achieved. 
In addition to having equipment up to date and in good working order, having an intentional layout of equipment greatly improves the member experience. Ensuring there is space to freely move from one station to another, and between each piece of equipment, for example is something to think about when designing your gym floor layout. 
The other aspect to Facilities Management, and the second most important driver of Customer Loyalty, is cleanliness. By having staff out on the floor cleaning and straightening throughout the day, we display respect. Understanding that members are paying good money to work out in our space, it is imperative that we show them the utmost respect by providing them with a clean environment. We will go over more examples on how to create good cleaning habits with staff that show your respect to your members in our next video. Stay tuned! 
If you would like to talk to an MXM expert about how to build a process for Equipment Repair or optimal Cleanliness procedures or if you want to know more about how MXM can help you track and improve your Member Experience, reach out to us using the link below. We're eager to help!