At the heart of the Strategy Wheel, you'll find what's called "My Core Value," which essentially is the overall mission for my business. That value drives my business, too. Taking it a step further, each section of the Strategy Wheel is driven by what I call a "Sub Strategy," which are the tactics you will implement to achieve the Core Value when seen through the lens of each section of the wheel.
This section details "Physical Plant," and my Sub Strategy here is "creating a respect for personal space, identifying rewarding amenities and the development of social spaces - all by using Member Feedback to better understand my "Voice of Customer."
Achieving each element of my sub strategy is what I need to do in order to uphold the core value that drives my business. 
Oh, and one more thing: I interchangeably use "Member" and "Customer"... just so we're all on the same page.
PHYSICAL PLANT
"It's your "Voice of Customer" that's going to inform the tweaks, the all out changes, and the capital expenditures that you need to implement for "Physical Plant." People will start to tell you what they want and need. So once you start to pull in that Voice of Customer from different cohorts (18-29 or 60+), you're going to get a wide variety of perspectives that will help drive changes that resonate with your members and stay on course with the core values of your business."
When thinking of what encompasses a Gym, what comes to mind for most is the variety of machines, the equipment and amenities that inspire physical activity for their members. But it's the overall experience of the physical facility itself that is a key element to your success and the driver of your Member Experience.
But don't misunderstand me - I'm not telling you that you need to invest in the best and most expensive pieces of equipment or amenities. I'm merely saying that your members will tell you what is most important to them - if you're willing to listen. 
"There's a better way to think about a gym from an Operator perspective. It's not as simple as our members 'go to the gym and then go home'. We need to consider the hundreds of touchpoints a gym member experiences from the moment they leave their house to the moment they get home from the gym. All of it shapes the overall experience of your members."

 - Bill McBride, Co-Founder, President & CEO, Active Wellness and BMC3
The devil is in the details, and the details are in the data. By "data," I'm referring to your Member Feedback that clearly defines your "Voice of Customer." 
An example: The pandemic shined the brightest of lights on the importance of cleanliness and physical contact and space within your gyms. What I want to call out here is … those two topics always have been important to our members. This is not a new development. People just started to pay more attention to those factors as it relates to the feelings that get triggered and their willingness to share those feelings in the form of feedback. 
Now, once you begin to understand the wants and needs of your members, you will have the information needed to help you operationalize that member feedback. 
What aspects of my Club can help improve our Member Experience?
When creating a plan of action to improve your Member Experience through your Physical Plant, there are several areas on which you should focus:
Rewarding Amenities
Toiletries, swimsuit dryers, hair care accessories, nice towels, flowers in the locker room … these are the "small things" you can do to elevate your Member Experience to the next level.
If you operate a high-end facility, members may expect more sophisticated amenities such as Recovery Spaces, Hydromassage Beds, Salt Caves or TheraGuns. Are these amenities required for every club? No, they aren't. But if you're looking to create the best member experience in town, consider the impact of small but meaningful amenities. 
Enhanced Membership
If your members are signing up for enhanced memberships, it's especially rewarding to ensure that they're feeling fulfilled and satisfied with the higher cost.  Premium facilities like food and beverage services, childcare, guaranteed Group Fitness slots, whirlpools and even nap rooms will make members feel like they're getting a first-class experience.
Providing additional services on top of a basic membership opens the door for new, highly lucrative revenue streams. For example, a health club in Florida opened a

recovery space

that featured HydroMassage beds. This "Recovery Space" is a popular enhanced membership amenity (that members and non-members can enjoy). Thanks to the $10,500/month brought in by the new space, the $180,000 investment for renovations was paid off in just over a year and since then the majority of the monthly revenue now sits as profit.
Respecting Personal Space
There is no such thing as too much personal space when you're at a gym. Whether you're in the locker room, on the floor of the gym, waiting in line to check in -- people want their space and privacy when necessary. The pandemic has made those considerations so much more important, too. Consider trying a few creative solutions: 

Stagger your locker room benches, sinks, etc. to give more privacy and space

No more rows of lockers - try to find ways to zig zag your benches and lockers to give more privacy to your members

Build out recovery spaces or maybe a nap room
Club Design
MXMetrics' customer data tells us that the Member Experience significantly is affected by the state of your locker rooms.

For example: After evaluating all of the "Key Drivers" of member loyalty using MXMetrics, Rochester Athletic Club identified that Facility and Locker Room/Showers were their important key weaknesses. So - they went to work on those factors. Now both Facilities and Locker Room / Showers are key strengths:

Facilities increased from 8.3 to 9.3

Locker Room / Showers increased from 7.5 to 9.1

Net memberships grew by over 11%

Net revenue also grew by over 11%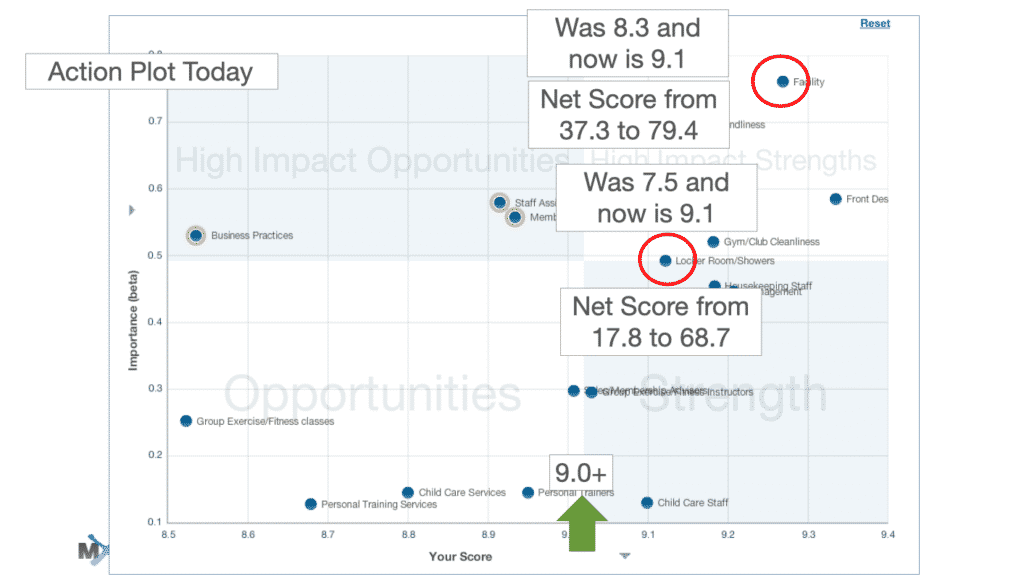 Focusing on those four factors will remove most of the friction that lives within the Member Experience, making it more likely that your members will be able to focus on creating long-lasting healthy fitness habits. 
Intentional Layout Improves Your Member Experience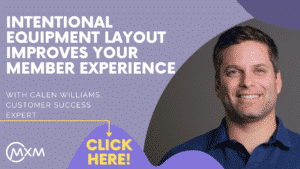 The layout of your space has an enormous impact on member's satisfaction and overall experience. When it comes to equipment, it's not necessarily about what equipment you have -- it's about how your members can use it in a way that best serves them.
This translates into all areas of your Club -- are you effectively using space in your locker rooms?  Do your members have a private area to stretch comfortably? Are the gym floor bathrooms strategically placed for easy access? Are the insides of your lockers dirty? (Pro Tip: The insides of your lockers should be black. While just as clean as lockers that feature a lighter color, a dark color will hide dirt that builds up between cleanings.)  
All of these questions are important ones when it comes to your Plant. But you can't just make changes for optical reasons. Let your changes be driven by the feedback provided by your members - which makes up the Voice of Customer.
Dig as deep as you can into your member feedback. That is where you'll find answers - better yet, opportunities - to improve throughout every aspect of your club. 
Click here to watch a video that goes into more detail on how to operationalize your Member Feedback in a way that promotes growth and improves your Member Experience .
Why Cleanliness is Key (and How You Can Master it!)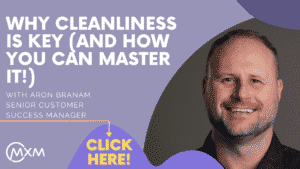 Cleanliness has always been important to your members. In a post-pandemic period, though, it has become vital. A study by IHRSA found that 56% of gym members enter their Club expecting it to be germ-free due to their cleaning regimens.
If the gym is found to be unclean or not up to their member's standards, member satisfaction plummets from 83% to 43%. Such a huge drop shows that you must be giving adequate attention to your Club's cleanliness as these numbers closely correlate with retention.
But what's changed about cleaning? How does your Club have to change and adapt to provide the cleanest and safest atmosphere that your members are craving?
You simply can't continue the cleaning routine you established before the pandemic - it's time for you to re-invest in your Club's cleanliness by experiencing your gym through the eyes of your members.
Watch this video to find out how you can improve both your Club's cleanliness and your member's satisfaction.
Using Your Member Feedback to Improve your Physical Facilities
If you're looking for a way to gather meaningful member feedback or deciding how to implement the feedback you already have from your members, we at MXM are here to help. We're passionate about helping fitness professionals build their businesses by providing the data and know-how to improve the Member Experience. Whether you're looking for some guidance on improving your Physical Plant, curious about best practices to improve your Member Experience or want to know more about MXM as a whole, our team is at the ready.
Reach out to blair.mchaney@mxmetrics.com or click the button below to speak to an MXM expert.